Is your aging parent, relative, or friend moving into a senior care facility? Are you in the process of deciding if it is time to downsize? Here are some tips on how to decorate an assisted living apartment.
Usually, an assisted living apartment will be small with two rooms, and seniors will have to downsize before moving into them. In addition, many seniors hesitate to move because they have accumulated a lot of treasures and clutter in their homes over their lifespan and do not want to let go of their extra belongings.
Choose to only move items used daily and your most cherished possessions to your assisted living apartment. Then, it is time to lighten your load and move into a stress-free environment. In this case, less is more.
The goal is to create a safe, relaxing, and comfortable assisted living apartment that feels like home. Keep furniture that has sentimental value to you. Some things may be too heavy or difficult to move, but if it holds sentimental value, you will want them to have in your assisted living apartment. 
Step 1: Select a Color Scheme and Decor Style
The first thing you need to do is think about the colors and style of décor to make you feel at home.
The best way to decorate an assisted living apartment is with a color scheme that matches your favorite colors. For example, if you like pink and purple, you would use those colors to base your design. You can add accents of other bright colors, such as red or yellow; however, be sure not to overdo it. 
Choose a theme or decor style that fits your interests. For example, looking for items and accessories complementing a rustic or outdoor look if you love hunting and fishing. If travel has been your passion, incorporate items from your travels and artwork of places you have visited.
Tip: For residents with dementia, use neutral colors for furniture to still feel comfortable.
Step 2: Create a Comfortable Cozy Bedroom
Decorating the bedroom is easy, but include a comfortable bed, plenty of storage space, and most importantly, make your new room an oasis from the world. The bed will be the focal part of the room. The bedroom should have a comfortable bed that is not too big and easy to get in and out of.
An oversized comforter on the bed is a good choice, with a few pillows added for comfort. Next, use the bedding to create a theme for the room. The great thing about bedding is that it is inexpensive and can easily be changed to different themes throughout the seasons.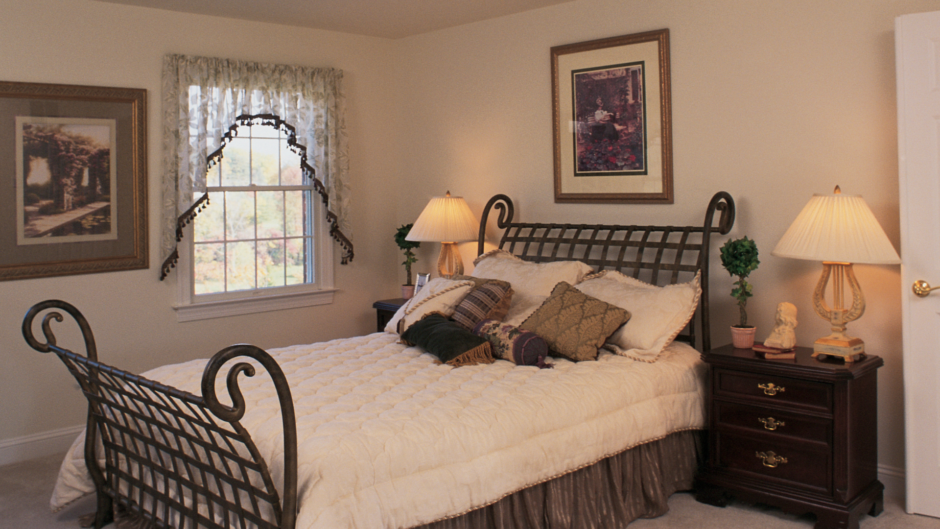 Place a nightstand next to the bed. Place a lamp, a clock with large numbers, and a phone on the nightstand. In addition, the nightstand should have some drawers that can hold some books, magazines, paper, and other items. Keep your bedding simple and stylish.
There should be a dresser or chest of drawers to store your extra clothing and linens in the bedroom. Keep the height of the dressers reachable from a sitting position. The dresser top can be used to store items that are needed daily.
Add a few photos of family or friends to make the room feel inviting. Include soft lighting, cozy blankets, fresh or artificial plants, and flowers.
Step 3: Design Your Living Area
The living room will be a place to spend your days and greet your guests. First, start with a chair for yourself. Lift chairs are good because they are both very comfortable and make it easy to get in and out of the chair. You may be spending many hours in this chair so choose one comfortable and practical. 
Place an end table next to your chair. This end table should have some shelves or drawers to place paper, books, pencils, etc. Also, place a telephone, paper, pencil, lamp, tissue, and things that you will use throughout the day in reach of your chair.
The sofa should be small enough to fit into the living room space. If you plan on having guests staying overnight, choose a sofa to hide a bed. 
Suppose room permits add a small table with a couple of chairs. The table can be used to play games, work on puzzles or eat a meal.
When setting up space in most assisted living apartments, consider visual weight. Heavy furniture closer to the outside walls of the room makes for a more spacious feel and gives a sense of privacy.
Step 4: Keep the Furnishings Simple
A small writing desk with drawers will easily store papers, greeting cards, pens, and supplies. If there is room, a bookshelf that is not too high will add storage for treasures and pictures. 
Keep the space clear of clutter. Leave plenty of room for walking around your apartment and remove any objects that might make you trip and fall. If you use a walker or wheelchair, be sure to have plenty of space to maneuver.
Step 5: Create a Safe and Organized Bathroom
Decorating the bathroom is essential, too – soaps, lotions, and personal items help bring a sense of belonging. Organize bathrooms by putting toiletries within easy reach so that people don't have trouble finding what they need when using the bathroom.
Mobility and balance issues often become more significant in the elderly. Installing grab bars around the toilets, showers, tubs, and sinks will help balance when getting in and out of these areas. Adding a higher seat to the toilet is another good option.
A medical alert device should be kept in the bathroom in case of falls.
Step 6: Create an Awesome Lighting Plan
As seniors age, their vision and hearing can deteriorate. Therefore, it is essential to make sure they have a good lighting plan to make tasks easier for them and feel more secure.
Keep lights on a dimmer when possible, and turn off overhead lighting in favor of lamps or wall sconces where appropriate.
If it is possible to tie lighting into a motion sensor, you will not have to get up to turn the lights on and off when moving around in the dark. This works exceptionally well if multiple rooms share an entry area. You can quickly move from one room to another without having to flip a light switch continually.
Use lamps and small sconces to create an intimate setting. A table lamp is lovely for bedside tables; look for lamps that can turn on and off by touch. Don't forget nightlights for bathrooms and hallways.
Step 7: Decorate with Accessories
Select artwork that reflects your interests, such as paintings of landscapes or pictures from your favorite vacation spot. Things that make you happy! Hang pictures of family members and friends.
Choose a clock that has large numbers and the date. Atomic clocks are a good choice because they automatically adjust to daylight savings time. Place a calendar in a convenient location that is easy to see and read.  
The secret to making your home feel more inviting is adding some plants. These will make spaces seem livelier, and they'll also add fresh air to your house!
Decorating Tips for Your Assisted Living Apartment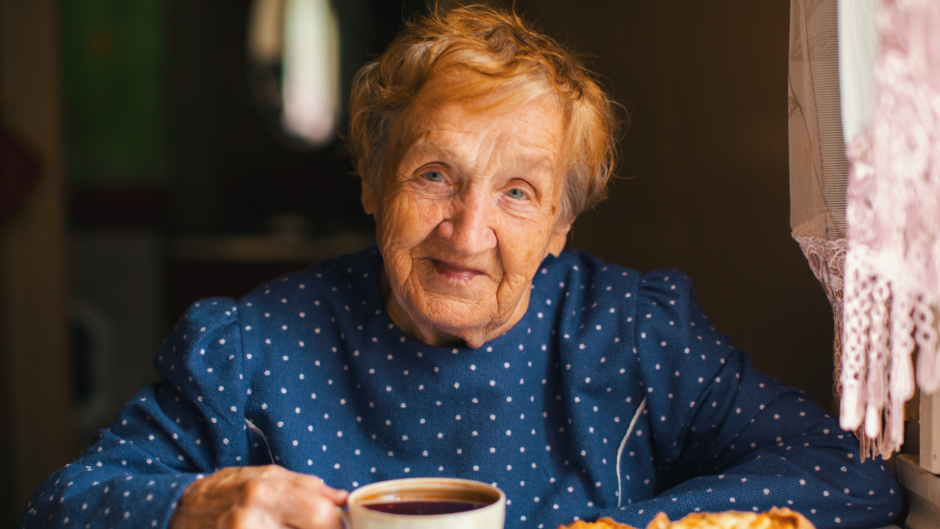 Decorative pillows and throws are excellent to provide a cozy feel, and they give you the perfect opportunity to incorporate any of your favorite patterns or colors.
Decorating with pictures is also important, particularly those containing family members.
Avoid area rugs on the floor because they can cause falls.
Be sure to include plenty of storage space in every room for personal items like clothing, books, and other things they need handy when living alone. 
Keep food stocked at all times so that there is always something available if someone gets hungry during meal times.
Clean often; this will show residents how much you care about them
Conclusion
The best ways to decorate and furnish your elderly loved one's new assisted living apartment include taking a tour of their current home, seeing what colors they like most, spending time with them during their move-in process, and asking them about any furniture that was left behind or donated.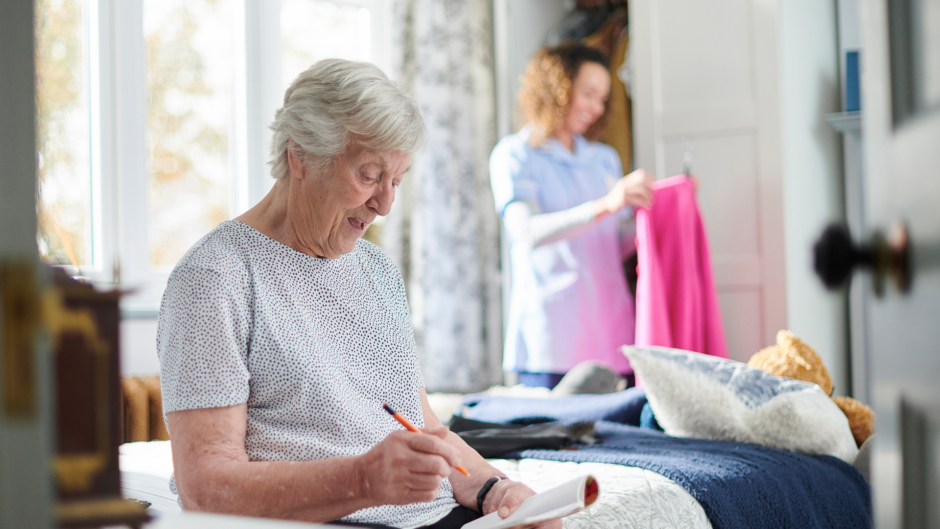 The key is making it feel as much like "home" as possible so they can maintain some sense of independence while in a new environment.
You can use draperies or window treatments to create privacy but still allow light through the windows for people who are sensitive to brightness, like seniors with macular degeneration.
Wall art that incorporates plants and animals should be used to feel more connected with nature. And don't forget about using colorful accents throughout your space!
Remember what grandma always said when all else fails, "When in doubt, add flowers!"
Video: Take a Peek Inside a One Bedroom Assisted Living Apartment
The decorating tips we've provided should help you start thinking about how you can design your assisted living apartment to be fun, comfortable, and beautiful.
Which of these ideas for a decorated assisted living space has appealed to you?
【Upgraded】 Digital Calendar Alarm Day Clock - with 8" Large Screen Display, am pm, 5 Alarm, for Extra Large Impaired Vision People, The Aged Seniors, The Dementia, for Desk, Wall Mounted, White
Lodge Bedspread Twin Size Quilt with 1 Sham. Cabin 2- Piece Reversible All Season Quilt Set. Rustic Quilt Coverlet Bed Set. Wilderness Collection (Moose - Chocolate)
Small Artificial Potted Plants Set of 2 - Small Fake Plants for Bathroom Decor - Modern Farmhouse Plant Decor - Small Artificial Plants for Home Decor Indoor - Cute Faux Plant White Pot
Digital Picture Frame WiFi,MARVUE Digital Photo Frame 10.1 inch IPS Touch Screen HD Display, 16GB Storage Auto-Rotate,Easy to Share Photo/Video via Frameo App, Cloud from Anywhere (Black)
【Upgraded】 Digital Calendar Alarm Day Clock - with 8" Large Screen Display, am pm, 5 Alarm, for Extra Large Impaired Vision People, The Aged Seniors, The Dementia, for Desk, Wall Mounted, White
Lodge Bedspread Twin Size Quilt with 1 Sham. Cabin 2- Piece Reversible All Season Quilt Set. Rustic Quilt Coverlet Bed Set. Wilderness Collection (Moose - Chocolate)
Small Artificial Potted Plants Set of 2 - Small Fake Plants for Bathroom Decor - Modern Farmhouse Plant Decor - Small Artificial Plants for Home Decor Indoor - Cute Faux Plant White Pot
Digital Picture Frame WiFi,MARVUE Digital Photo Frame 10.1 inch IPS Touch Screen HD Display, 16GB Storage Auto-Rotate,Easy to Share Photo/Video via Frameo App, Cloud from Anywhere (Black)