This article will go in-depth about the best makeup for senior women. Makeup is not just a way to cover up imperfections; it can be used as a tool to make you feel more confident and look your best. Makeup for Senior Women is different from regular makeup because of skin tone and wrinkles that develop with age. This article discusses what type of products are best for Seniors and where you can buy these products!
1. Foundation
The two things that every woman needs for her face are sunscreen and a great foundation. It gives you the confidence to go out into the world knowing that your skin is protected from harm.
You want a foundation that is light and not heavy. Make sure that you are not using a heavy foundation because this can cause wrinkles to look deeper. Make sure the color matches your skin tone and is blended in well.
Our top-recommended foundations for Senior Women below are affordable and can be found at many local stores or Amazon.
Tip: How to select the right color: Go to a store that sells these brands of makeup. Try and find a color that is one shade lighter than the inside of your wrist. This foundation is concentrated, so start with small amounts on the ring finger or make-up sponge (my preference) to apply. Give it 7-10 minutes after you put on moisturizer before applying.
2. Concealer
One of the first things to go with age is your skin, and one way it starts to show is dark circles. Dark circles under your eyes can make you look washed out and tired all day long, which could be a problem for seniors trying not to appear old!
If you're a senior woman, you know that the skin around your eyes is thin and delicate. This can make it hard to find an effective concealer for dark circles or bags under your eyes.
You want an appropriate concealer that will cover up the darkness under your eyes without highlighting wrinkles. Make sure that you blend the concealer well to avoid any heavy lines.
Tip: For the undereye area, be sure to get a concealer that is not too light. It should be at least one or two shades darker than your natural skin tone. For the face, get a concealer that matches your foundation color.
The best type of concealer for Senior Women is IT Cosmetics Bye Bye Under Eye Concealer. This product provides broad-spectrum, full coverage with a patented sponge applicator that makes application easy and precise.
The right makeup can make us look healthy and refreshed.
3. Eyeshadow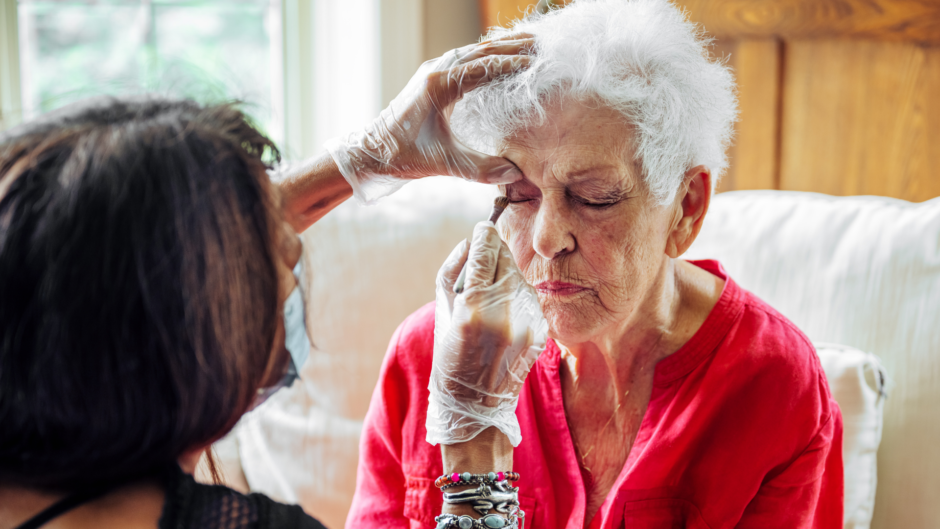 Eyes are one of the first things people notice, and you want to make sure that they turn heads for all the right reasons. Makeup is not just about covering up imperfections; it's also a way to feel more confident in your skin!
For mature women, it's essential to wear makeup that improves the look of your face without making you look older than you are. Dark shadows can emphasize fine lines and wrinkles, so everyone would benefit from choosing a lighter shade instead.
Tip: The best eyeshadow for senior women is the one that works with your skin tone. Try using a neutral color on your eyelids, and then use a darker shade in the crease to create depth.
4. Mascara 
If you're looking for the best mascara for seniors, the first thing you need to do is figure out your needs: length, volume? As we age, our lashes become thinner and shorter.
While mascara can be tempting to leave on all day long, it's good to give your eye relief from time to time by taking the makeup off. Ensure that you remove your greasy or waterproof mascaras with an oil cleanser or a gentle eye makeup remover.
The best mascara for seniors is Maybelline Great Lash Washable Mascara because it's gentle on the eyes and doesn't irritate sensitive skin. In addition, it gives full coverage to make your lashes look long and thick.
Another good choice is Makeup Forever Aqua Eyes Mascara because it's waterproof yet doesn't smudge easily and has ingredients that will keep your lashes looking healthy.
5. Lipstick or Gloss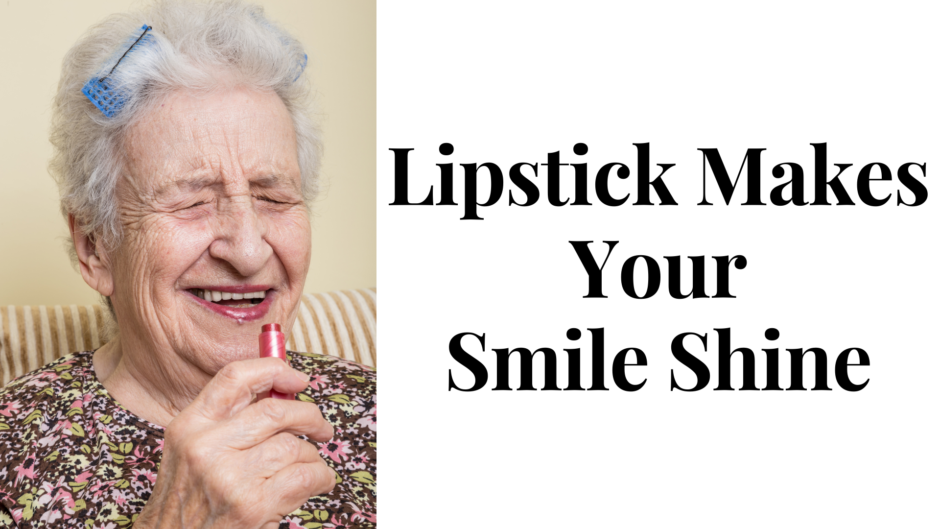 The best lipstick for a senior woman provides the right amount of coverage and feels comfortable. Lipstick with more pigment provides more coverage but can also be drying. So make sure to apply it sparingly and stop if you experience dryness or irritation.
The perfect lip color will have enough pigment to cover wrinkles without caking on too much makeup while still feeling light on your lips. Make sure to choose the right shade for your skin tone! A tube of lipstick makes the perfect gift for your favorite senior.
The best type of lipstick or gloss for Senior Women is Makeup Forever Aqua Lip. It's water-proof and long-lasting, giving you a perfect pink pout with just one swipe. In addition, the pigments in this product are made from colorless minerals, so they won't clog pores or irritate sensitive skin.
Make sure your smile is as radiant as it can be!
6. Blush and Bronzer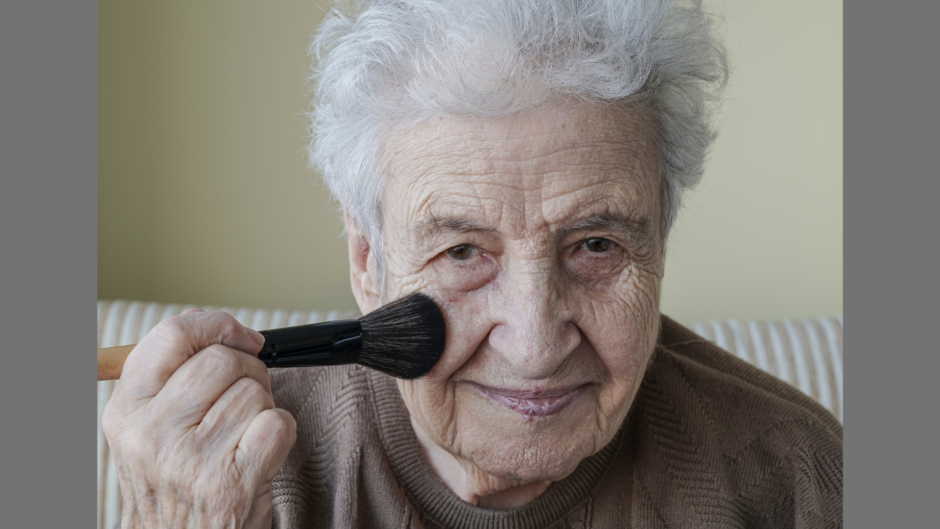 We all know that blush and bronzer are a must for looking healthy, refreshed, and youthful. But the color can be too much for our more mature skin – it can make us look like we've been in the sun too long or worse yet, like we're wearing makeup.
The best blush for mature women is Makeup Forever Contour Blush. It has subtle pigments that don't look too dark or unnatural on the skin, and it lasts all day without transferring to your clothes.
Bronzer can be tricky as well – most of them come in shades that are just a little bit too light or orangey for our skin. However, makeup Forever has a great bronzer in the shade Sand, perfect for more mature women.
Be aware of the products you use on your face so that you don't increase the appearance of wrinkles. Makeup can work wonders, but it's important to make the most out of your makeup by choosing products that work in harmony with your skin type and coloration.
7. Use a Makeup Mirror
One important tip for Senior women with any makeup on their eyes or face is to make sure they have a mirror nearby. Makeup for seniors is different from regular makeup because of wrinkles, so it can be hard to see what you're doing without the aid of a mirror!
Make sure to select a mirror that's large enough, has an adjustable lamp or light nearby, or built-in LED lights, and magnification so you can see every detail on your face.
Conclusion
The best make-up for senior women is the type that suits their age and skin tone. There are many makeup products on the market, but it's important to find one that complements your natural features.
Try a foundation with anti-aging ingredients like retinol and vitamin C if you have wrinkles or dark spots. Also, look for moisturizers that contain SPF protection, such as titanium dioxide or zinc oxide. These will help protect against sun damage from photoaging while also preventing free radical formation in other ways.
We hope you enjoyed this article and found it helpful. If so, please share with friends and family! We also want to hear from you – what are your favorite makeup brands for mature skin? Let us know in the comments below. Thanks for reading!
Video: Look closely at this before and after photo – a little color goes a long way.
IT Cosmetics Naturally Pretty Trio, Matte Luxe - Anti-Aging Eyeshadow - Three Velvety Neutral Shades - With Hydrolyzed Collagen, Silk, Acai, Green Tea & Vitamins A, C & E - 0.03 oz
Revlon Liquid Foundation, Age Defying 3XFace Makeup, Anti-Aging and Firming Formula, SPF 30, Longwear Medium Buildable Coverage with Natural Finish, 035 Natural Beige, 1 Fl Oz
Revlon Lipstick Set, Super Lustrous 5 Piece Gift Set, Multi-Finish, Cream Pearl & Matte, Pack of 5
VESAUR Professional 8.5" Large Lighted Makeup Mirror Updated with 3 Color Lights, 1X/10X Magnifying Swivel Vanity Brightness Dimmable Cosmetic Mirror with 48 Premium LED Lights, Senior Pearl Nickel
IT Cosmetics Naturally Pretty Trio, Matte Luxe - Anti-Aging Eyeshadow - Three Velvety Neutral Shades - With Hydrolyzed Collagen, Silk, Acai, Green Tea & Vitamins A, C & E - 0.03 oz
Revlon Liquid Foundation, Age Defying 3XFace Makeup, Anti-Aging and Firming Formula, SPF 30, Longwear Medium Buildable Coverage with Natural Finish, 035 Natural Beige, 1 Fl Oz
Revlon Lipstick Set, Super Lustrous 5 Piece Gift Set, Multi-Finish, Cream Pearl & Matte, Pack of 5
VESAUR Professional 8.5" Large Lighted Makeup Mirror Updated with 3 Color Lights, 1X/10X Magnifying Swivel Vanity Brightness Dimmable Cosmetic Mirror with 48 Premium LED Lights, Senior Pearl Nickel