Women of all ages really enjoy receiving gifts! They're a great way to show them you care about them on their birthday, any special occasion, or just because. I always want to find a meaningful gift for the elderly women in my life. That can be hard, but I've seen some great ideas below that are useful gifts for elderly women and will make any woman's day!
The meaning of "meaningful" is something with deep personal significance or worth; it has importance beyond mere practicality. Giving gifts should not only create an impression, but they also need to last as well, so people remember what you mean by them long after your visit ends (or card arrives). Below are some thoughtful options for creating lasting impressions:
You've Got Snail Mail
Daily mail delivery is something that most elderly people look forward to. In the middle of winter, a surprise in the mail can make their day so much warmer!
Consider a subscription gift delivered monthly throughout the year, such as a magazine subscription or gift basket of the month. Note that you can also opt to have some gifted items sent more often, like once every week!

Personalized letters or cards sent monthly will always be cherished. Sending cards is an easy gift for you to give, purchase 12 fun greeting cards and address them all at once and sign them with a simple note. Place them in a spot where you keep your monthly bills and send them out at the same time that you pay your bills.
Gift certificates are always appreciated! Your gift recipient can then purchase what they really want without worrying about making the wrong choice for themselves. If it is not possible, or if you don't know what kind of gift certificate.

The Joy of Reading Large Print Books
Poor eyesight can make reading difficult for the elderly, and it is a considerable inconvenience. Offer to read magazines or books out loud when you visit your loved ones, as well as offer them large print cards, so they don't have to squint at a tiny text while trying to write thank-you notes!
Homemade Gift Basket
A simple gift basket full of items that are used daily, such as hand soap, shampoo, hand cream, coffee, or tea, would make an excellent gift for someone who can't get out and shop. These items may seem simple, but they are things that are needed and will be appreciated. Often elderly women live on a fixed income, so these little things will help.
Music Therapy for Seniors
Music has many benefits for seniors. Music therapy is a fantastic way to improve the quality of life for older adults. Studies show that it reduces stress, anxiety, and pain in the elderly and improves immune function. It also enhances memory because music aids in recalling memories from earlier times around when they were more active with their parents or friends who would play some kind of instrument. Music promotes exercise by giving people a reason to do something other than sitting on the couch all day long!
The Best Devices for Seniors to Listen to Music

The iPod shuffle is a good option for seniors because it's small and lightweight.
The iPhone has a built-in speaker, which makes it easy to listen to music anywhere.
A cassette player is an affordable way to play your favorite albums from the past.
An AM/FM radio will allow you to tune in to your favorite stations.
If you're looking for something more high-tech, there are plenty of options out there, like the Amazon Echo Dot and Google Home Mini, that have voice control features, so you don't need to touch anything at all!

Say it with a Photo
A photo album is a great way to preserve memories. Women love thinking about their families and children. Create a photo album with pictures from her life, and include captions under each one that names the person or event in the picture. This will help to keep those memories alive.
Photo collages make great conversation pieces. Hang them in your elderly parent's living room area to create a go-to spot for all guests to discuss the memories and stories on each page. Make sure that you add names and places of each photo!

Warm and Comfy

Clothing is one of the best gifts for elderly people. Choose soft fabrics, like wool. Larger buttons and large pockets are easier to use with older hands.
Many elderly women find that they tend to feel colder as they get older, so a perfect gift would be warm–a sweater or a blanket, depending on what's most appropriate for the person.
Lap blankets provide the perfect solution to keeping warm while watching TV or just taking a nap during the day. Choose something small and lightweight that can easily be placed on the back of a chair or sofa. A lap blanket can also add a nice splash of color to the room.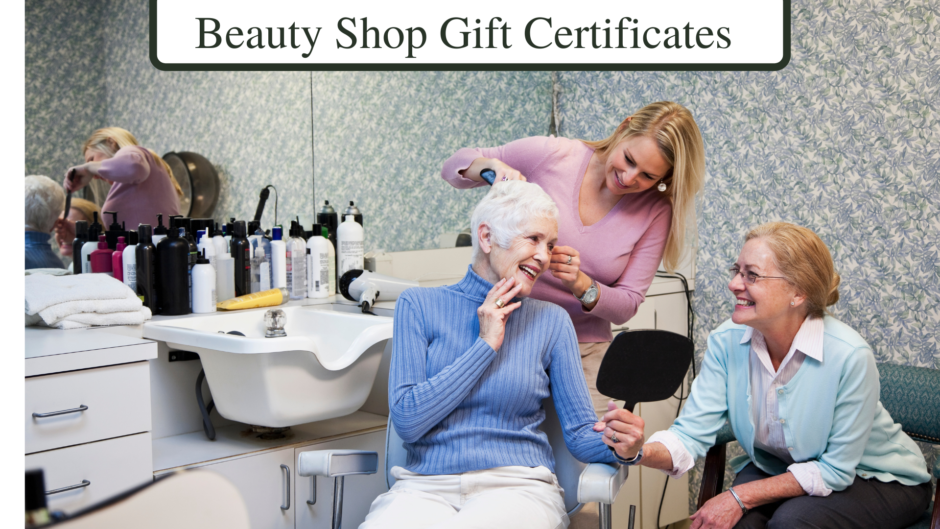 Beauty Shop Gift Certificates
Often, women of all ages enjoy having their hair look its best. This means frequent visits for haircuts and other beauty services like makeup applications or coloring treatments. If they live in a senior community, often there is a salon on-site that will offer certificates to be redeemed at the establishment, so you don't even have to worry about being stuck with an expired certificate!
Take Grandma Out for a Mini Vacation
Time spent with a loved one is always the most valuable gift that you can give. Plan a day trip to visit their hometown or favorite places and take them on an outing they'll love! The outing could be something simple, such as taking in some beautiful autumn colors by driving around nearby neighborhoods or checking out your town's holiday lights display. A perfect way to show someone how much you care about them.
If you know an elderly woman who doesn't get out enough, ask her to spend the day at your house. Watching young children or just sitting in a different environment will make them happy! The main reason for this type of gift is that we can share some time together and it's also great if they need help with their social skills because often times old people don't have much family contact anymore.
Emergency Medical Alert Device
When we think of the perfect gift to give, safety and security are often at the top of our list. Emergency medical alert devices can be worn as necklaces or bracelets to keep loved ones close by in times where they might need help most. Imagine being unable to get up after a fall and laying on cold floors until someone notices that you're missing. This is one unique way your loved one will never want for anything ever again!
Gift Certificates for Household Chores
Make your own gift certificates that can be exchanged for chores, such as spring cleaning. These are things elderly women have a hard time doing on their own!
The physical nature of the housekeeping tasks often leaves seniors feeling like they can't keep up. Cleaning out cupboards and changing light bulbs are all chores that need to be done but may seem daunting if one has lost a lot of strength or mobility over time.
Luckily there is help available for those who want it! A home cleaning service will come in and take care of even the most challenging jobs, so you don't have to worry about your loved ones' homes any more than necessary!
Delicious Food Delivered to Your Door
People who live alone often overlook good nutrition. They don't cook good quality meals for one. To provide better food, donate to Meals on Wheels and have a daily meal delivered to their home. Not only will a meal be delivered someone will be stopping by daily to say hello.
An alternative to Meals on Wheels is to share your home cooking. When cooking food for your family, prepare extra servings that can be frozen and given as a gift. Once this becomes a habit, it is easy to share a home-cooked meal with your friends and family.
Give gift certificates to restaurants that deliver to your local area. Include a menu from the restaurant to make it easy to pick up the phone and have a meal delivered. Another choice is to call the restaurant yourself to have a meal delivered to pay for it with a credit card. Just prearrange with the person receiving the meal that they will be home.
Transportation, Taxis & Uber Service for Seniors
Research your local community for transportation options for the elderly. Often communities have a senior taxi service that offers rides to grocery stores, events, or doctor's appointments. Check if you can purchase gift certificates for these rides. Most medical clinics and doctor's offices provide some type of transportation. Call their doctor's office to find out what is available.
Offer your own services for weekly transportation to the grocery store or doctor's visit. Help with the weekly shopping is a precious gift for an elderly woman. You can do your own shopping while they are doing theirs.
Sharing Your Love for Elderly Women
A gift for an elderly woman is not always a tangible item. It can be time, love, and support. Gifts should come from the heart with no strings attached, but it takes creativity to find new ways of giving unexpected and appreciated gifts. Sharing your love will make her feel wanted in this season of life.
When children live far away or have demanding careers, they need to rely on services to offer errands. Many companies are established to help meet the needs of the elderly. They provide shopping, cleaning, and other services. Carefully check references before hiring a service.
Elderly women still love to use the phone the old-fashioned way by receiving a phone call. They usually don't text or have email. Pick up the phone and give your loved one a call. A simple phone call regularly is an excellent way to keep in touch.
A special THANK YOU from me to you for thinking about giving a gift to the elderly. It isn't easy growing old. Your thoughtfulness will be appreciated, and it is something that I hope becomes viral.