Are you looking for some gift basket ideas for senior citizens? Creating a gift basket is one of the best ways to show someone how much you care about them, especially for seniors who have difficulty getting out to shop and have limited resources.
Making your gift basket allows you to personalize it and add valuable and unique items for the recipient. They are both fun to give and fun to receive. Here are 12 gift basket ideas for senior citizens that the recipient will cherish. Now let's get started.
Start with a Basket / Container
The first thing to do is select a container or basket to serve as the basis for your present.
The container may be new or recycled and does not need to be significant. Weaved baskets, plastic containers, tote bags, and simply a lovely gift bag are some alternatives that work well.
The basket might range from a simple cardboard box to a decorative wicker basket.
A dollar store offers a lot of options for your basket. You may also make an attractive basket using antique containers from an antique shop. Get creative!
For your filler substance, use tissue paper or newspaper. Avoid using tiny sloppy bits such as Easter grass.
Theme Your Basket
Once you have your container, it is time to start filling it with goodies. One way to theme your basket is to focus on the interests of the senior citizen receiving the basket. If they love to cook, fill the basket with kitchen gadgets and utensils. If they like to read, fill it with books, magazines, and a bookmark.
If you are unsure of their interests, you can also choose a themed basket such as "Senior's Survival Kit," which would include Band-Aids, tissues, lotion, pain reliever, etc., or one of the basket themes below.
Once you have filled your basket, it is time to add that final special touch. You can take the theme one step further by wrapping the container or basket in matching paper and then writing a heartfelt note on top. You can also add something representing the senior recipient, such as a scarf if they enjoy knitting, gardening tools if they like to garden, etc.
---
Gift Basket for Someone with Memory Loss
When choosing a gift basket for someone with memory loss, you'll want to select familiar and comforting items. For example, try including a novel, a simple crossword puzzle book, chocolates, and a soft blanket.
Some seniors may appreciate a photo album that includes pictures of loved ones. In the case of someone with memory loss, that person will be happy to have something surrounding them in familiar images when they're feeling sad or alone.
Create a simple photo album with photos of family and friends but include their names so the person losing their memory will remember words and special events. Photo album books can be created online and printed.
If the seniors' memory loss is more serious, they might not remember these people. However, even if they don't know their family and friends, they'll be happy to stare at their faces and hold onto something that feels like home.
These gifts will also help seniors with dementia feel less agitated and more content.
Improve the daily life of a person who has memory loss.
Some of the things that are often hard to remember are what day, month, and year. A wall clock with large letters mounted on a wall where your loved one will see it benefits someone with memory loss throughout the day.
Another item that I like to give a person with memory loss is a simple, easy-to-use remote control for their TV. On – Off with favorite channels programmed.
---
Pamper your Senior with a Spa Basket
Do you have a dear friend who needs to relax? A spa gift basket is the perfect present for someone recovering from surgery or needing some time out. You can find ready-made spa baskets at most stores that sell bath products, but if you want to go the extra mile, you can create your spa gift basket with items from around the house.
"Add a fun magazine filled with fun things to read. Battery-operated candles or a gift certificate to their favorite salon."
Create a Bath and Body Spa Basket
Fill a pretty basket with all-natural bath products like Epsom salts, dead sea salt, bath crystals, lavender oil, loofah sponges, and purple sage soap (great for restoring skin's natural PH balance), and a new toothbrush and toothpaste. If your senior citizen friend loves to soak in the tub, they will love this basket of goodies.
---
Breakfast of Champions Gift Basket
Everyone dreams of the luxury of waking up and having breakfast ready to eat. So when putting together a gift basket for a senior, consider their favorite breakfast foods and drinks and include those items. You can also personalize the basket with a note or card to tell them how appreciated they are.
Fill a basket full of tasty goodies: cookies, muffins, juice boxes, fresh fruit, and some unique flavors of coffee or tea. Consider including a few small single servings of cereal that can be eaten as a snack or with their favorite fruit.
Add a new personalized coffee mug that has an easy-to-hold handle.
Breakfast of Champions gift basket packed with pancake mix, maple syrup, bacon, and eggs. If you feel uncomfortable including meat in the gift, you can create a vegetarian version by substituting cheese or fruit for the bacon.
If your senior is interested in learning to cook from scratch or has been diagnosed with gluten intolerance, as many seniors are these days, consider a basket with homemade muffins or pancakes.
---
Greeting Cards and Stationery Gift Basket
Many older people grew up writing letters, greeting cards, and thank-you notes to those they cared about regularly. In this day of technology, a handwritten form of communication is still cherished by many.
So surprise your loved one with a basket of stationery, greeting cards, stamps, pens, and a portable writing table.
Add an address book with friends' and relatives' addresses written in large text or some computer-generated labels for that special touch.
Greeting Cards – Think about the person you're giving your gift to when choosing what kind of greeting cards to include. Sometimes it's best to stick with humorous or silly cards that will put a smile on their face.
Stationary – Some seniors love getting invitations to set the events in stone, like an engraved calendar. Other seniors love getting generic stationery to write letters to friends and family whenever they feel like it. You might also consider giving them a personalized notepad or even their favorite writing pen so that they can jot down grocery lists, to-do lists, memos, etc.
Pens – Writing things down is one of the best ways for any senior to keep track of what's happening. However, this doesn't mean that you need to fill your gift basket with boring pens that take away from your gift. Instead, check out various colorful pens and pencils that will be fun for your elderly friend or relative to use year after year.
No matter what you choose to put in your greeting cards and stationery gift basket, make sure that you take the time to personalize it whether you add a heartfelt message or write their name on a card; adding that extra touch will show that you care.
---
Movie Night and Popcorn Gift Basket
The best way to bring back memories is by having some good old-fashioned popcorn with a box of Good n Plenty or Skittles.
Why not invite some friends over for a movie night? And what better way to celebrate than with a popcorn gift basket?
Create a basket filled with fun and a night of watching movies.
There are so many great old movies to choose from when it comes to picking a favorite for senior citizens. Some of the classics that come to mind include "The Philadelphia Story," "It's a Wonderful Life," and "Casablanca." These movies are all well-known and loved for a reason – they're enjoyable to watch repeatedly.
Another excellent option for seniors is the classic "The Wizard of Oz." This movie has a heartwarming story, memorable characters, and stunning visuals.
Finally, another excellent option for seniors is the classic "The African Queen." It's an exciting adventure film that is sure to please seniors.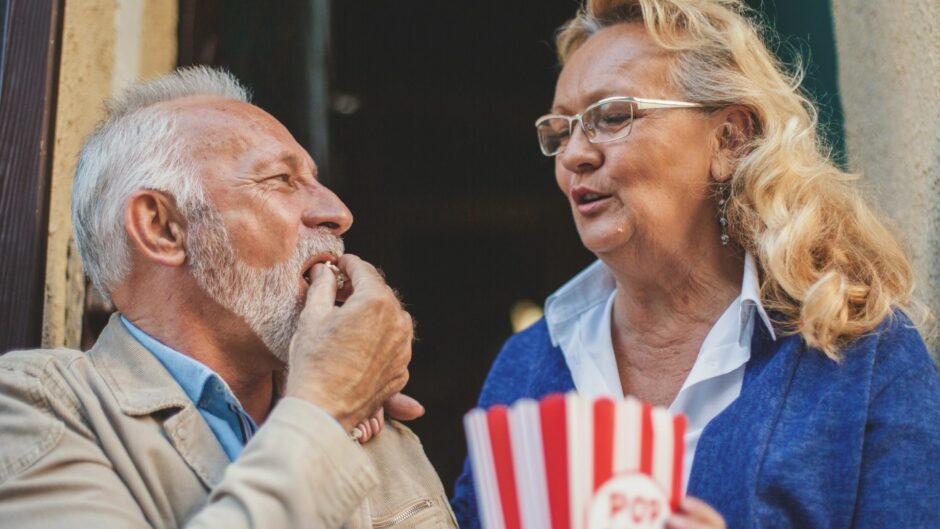 ---
Music from the Past: Oldies but Goodies
What could be more fun than giving a gift basket filled with goodies inspired by music from the past? Whether your giftee is young or old, there's something for everyone in this collection of nostalgic tunes.
Your basket could include a CD or vinyl record of some oldies but goodies, such as "The Twist" by Chubby Checker, "The Lion Sleeps Tonight" by The Tokens, or "I Will Always Love You" by Whitney Houston.
You might also want to include some fun throwback items like a Rubik's Cube, an Etch A Sketch, or a Slinky.
No matter what you include, make sure to have fun with it!
After all, that's what music from the past is all about. Thanks for giving me the gift of good times.
---
A Basket Full of Puzzles and Games
Puzzles keep our minds active and provide entertainment for hours. Create a basket filled with puzzles and games for your favorite senior citizen to enjoy. Choose large print puzzles for those who have trouble reading.
A few snacks and drinks will make this the perfect gift for any occasion.
Some ideas of what to include are:
A board game like Monopoly or Twister
Word Search Puzzles
Crossword Puzzles
Sudoku Puzzles
Scrabble Game Set
An Etch-A-Sketch
---
A Gift Basket for the Bookworm
Books always make perfect gifts. Many books come in large print so take advantage of what is available. Books on tape are popular with those whose site is diminishing so are large Print Bibles for daily devotion.
If your loved one is still very mobile, consider a book on the history of their favorite hobby or sport.
Magazines are also excellent gifts for seniors. A current issue of their favorite magazine will keep them entertained for hours on end.
---
Bingo Night Gifts
Wednesday night bingo at the lodge is a favorite place for many seniors. Create a tote to carry to bingo night, including markers.
As you get older, gifts become more meaningful. The gifts you receive as a young adult are usually helpful, but gifts at the "more mature" stage of life must be personal and show how much you care.
Bingo night gifts for senior citizens can mean so much just because they remind an older person that someone out there still cares and that they are not forgotten.
Even if you don't go to bingo night often, it's an excellent opportunity to get a gift for the special seniors in your life.
---
A Basket of Flowers that Last Forever
Senior citizens can enjoy beautiful flowers that last forever by choosing a flower basket that is specifically designed for them.
Caregivers will find these baskets easy to care for, and seniors will love the long-lasting beauty of their floral arrangement.
Flowers bring beauty and joy to one's environment. They do not always have to be fresh. A bouquet of silk flowers lasts forever and will be enjoyed for years.
Ask your favorite senior what their favorite flower is, then try to find an arrangement that will last forever. Choose from various colors and styles to find the perfect basket for your loved one.
These baskets are a great way to decorate a nursing-home room. 
---
Easy to See and Easy to Read Gift Basket
If you are looking for a unique gift for a senior citizen or someone hard to please, consider giving them a gift basket filled with easy-to-see and easy-to-read.
As people age, they find that their sight changes. For example, seniors with low vision would enjoy times such as large print playing cards, large print books, magazines, puzzles, or a handheld magnifying glass.
This basket is perfect for elderly loved ones who may be experiencing vision problems or just want an easier way to enjoy their favorite activities.
---
The Walker Rollator Tote
You may not consider this a basket, but a tote that attaches to a walker-rollator can make a difference to a senior. They come in all sizes, shapes, and styles that easily attach to a walker.
Fill the tote with daily essentials that are always needed, such as a small Kleenex box, water bottle, paper tablet and pen, phone case, eyeglass case, and a key ring.
These totes are made for both men and women.
---
Monthly Senior Care Gift Basket Ideas
Looking for the perfect gift for a senior loved one or friend? Why not consider a monthly care basket?
These baskets are filled with goodies tailored to meet seniors' needs. So whether you're looking for ways to help your loved one stay healthy and active or want to make their day a little bit brighter, these baskets are sure to please!
Plus, they make a great monthly surprise for caregivers, too!
Why not create a monthly care package specifically designed for someone you love?
Monthly care baskets are the perfect way to show your love. These baskets are sure to please, filled with tailored gifts for seniors. Create a list of 12 different ideas and put together a basket each month.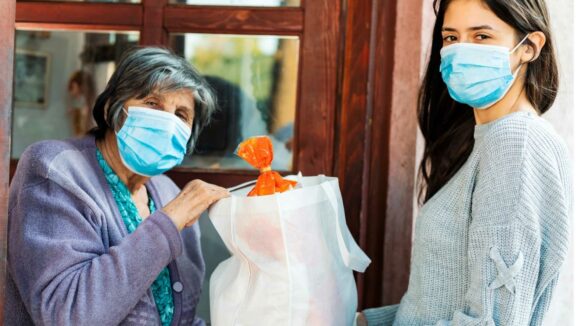 ---
Nursing Home Welcome Baskets
If you're looking for some fun and creative ideas for nursing home welcome baskets, look no further! Here are a few of our favorites:
Fill a basket with personalized journals, pens, and notepads. Your loved ones can jot down their thoughts and musings whenever the mood strikes them.
2. Put together a basket of puzzle books and crosswords. These nursing home activities are perfect for passing the time and sharpening the mind.
3. Fill a basket with homemade cookies, chocolates, and other treats for the sweet tooth. Include a special note letting your loved ones know that they're always in your thoughts.
4. Lastly, we love the idea of filling a basket with comfy slippers, cozy blankets, and warm socks. After all, nothing says "welcome home," like coming back to a cozy space that feels like your own!
---
Gift Basket for Elderly Parents
If you're looking for a gift that will make your elderly parents smile, a gift basket is a great option. You can fill it with their favorite items or get creative and include items they may need or want but never purchase for themselves.
For example, include a gift card to their favorite restaurant, a new book by their favorite author, or a voucher for a day of pampering at a local spa.
If you're feeling extra generous, you can even add something extra, like tickets to a show or a gift certificate for a new piece of jewelry.
A new cell phone helps your elderly parents keep in touch.
No matter what you include, your parents will surely appreciate the thoughtfulness of a gift basket.
---
Senior Goodie Bag Ideas
Senior citizens deserve the best of the best, and that's why we've put together a list of goodie bag ideas that are sure to put a smile on their faces. From tasty treats to personalized gifts, there's something for everyone on this list.
How about a gourmet gift basket filled with their favorite snacks for your senior?
Or, for the tech-savvy seniors, how about a new tablet or e-reader loaded with their favorite books and apps?
For those who love to pamper themselves, how about a luxurious spa day package complete with a gift certificate for a massage or manicure?
A travel-sized toiletry kit with their preferred products may be ideal for those who are always on the go.
No matter their interests, we guarantee that they'll be thrilled with one of these goodie bags. So go ahead and treat your favorite senior citizen today!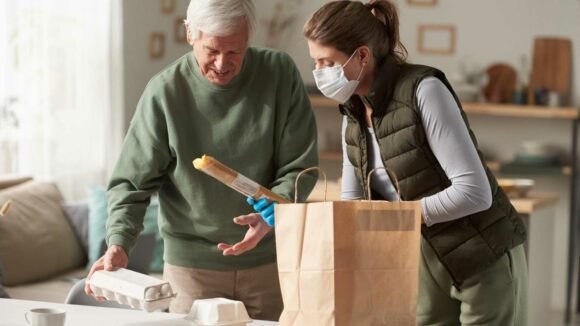 ---
Gift Basket for Older Women
Gift baskets make great gifts for older women. They can be filled with various items, including clothes, books, and toiletries. Older women often appreciate the thoughtfulness of a gift basket and are sure to appreciate the contents.
For a truly unique gift basket, consider filling it with items that reflect the hobbies and interests of the recipient. For example, a basket filled with gardening supplies would be perfect for an older woman who loves to garden.
Or, if the recipient enjoys spending time outdoors, fill the basket with birdseed and birdhouses. Whatever you choose, a gift basket will bring a smile to any older woman's face.
---
Gift Basket for Older Men
It can be challenging to shop for older men, especially if they seem to have everything they need. However, a thoughtful gift basket can be the perfect way to show your dad, grandfather, or uncle how much you care. Here are some ideas to get you started.
For the coffee lover, consider a basket filled with gourmet coffees and teas, along with a new mug or thermos.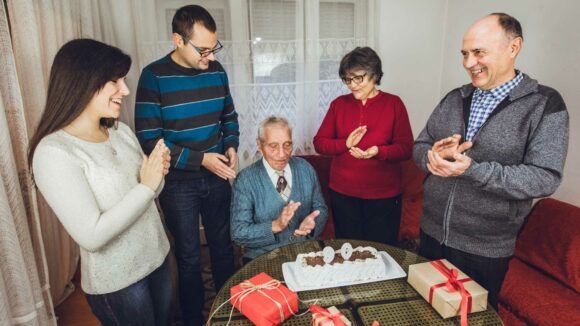 If your relative is a sports fan, put together a care package with their favorite team's gear, game tickets, or a sports magazine subscription.
And for the gentleman who loves nothing more than relaxing in his retirement, put together a basket of cozy slippers, comfortable pajamas, and his favorite books and movies.
No matter his interests, there's sure to be a gift basket that will make him smile.
---
Food Gifts for Seniors
Food gift baskets make perfect gifts for seniors. They can include a variety of items that are both tasty and nutritious. For example, you can include fresh fruits, vegetables, meat, cheese, bread, crackers, cereal, and yogurt in a food gift basket for seniors. You can also include fun items like cookies, cake, or candy.
A food gift basket is a great way to show your loved ones that you care about their health and well-being. It is also a great way to help them stay healthy and active.
Final Thoughts
Seniors love receiving gifts showing how much they care and appreciate the time they spend together. So pick presents that will be meaningful and keep your loved one feeling young at heart.
There are many gifts for senior citizens to choose from, but a gift basket is a great way to put many gifts into one place. So whether you are looking for a unique gift or something easy to see and read, a gift basket is perfect for your loved one.
---