Find out how to make a handicapped bathroom accessible for the elderly while still having all the comforts of home. Years of memories in the home are why some people choose to age in place. Remodeling a bathroom will help you achieve aging in place and stay close to loved ones, so it's worth considering giving your bathroom an update.
The bathroom is the essential room in a house to be handicap-accessible. More and more people are becoming disabled as they age, so you must have an accessible bathroom. Some basic features of this type of bathroom include wider doorways, lower countertops, grab bars near toilets, and showers. Also, one large sink with low faucets or sinks at different heights for sitting or standing up while washing hands; and wide enough floor space to maneuver. This blog post will discuss how to remodel your current bathroom into a handicapped-accessible one!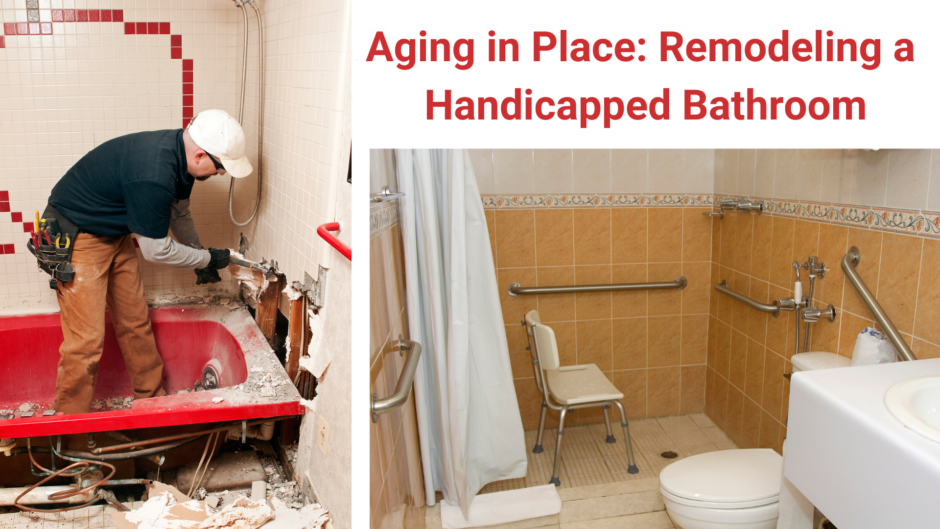 There are many considerations to remember if you need your bathroom accessible for people with disabilities.
Start with a Wish List
All remodeling projects start with a new vision for a room you desire to change. For example, updating an existing bathroom to create a safer and more comfortable space can be functional and stylish.
To get started, list what you want your new bathroom to look like and feel. The design can be as general or specific as you need it to envision the space and plan for all design elements.
Choosing Your Selections
You must decide on paint color, light fixtures, mirrors, countertops, faucets, sink, and toilet. It would be best if you also chose flooring and towel bars. It would be best if you thought about shower fixtures as well. What kind of door do you want? What type of tile will you have?
Creating a bathroom plan can be overwhelming, but it's necessary to think each step through so you end up with the perfect space for your needs and desires.
You can find everything online, from the world's most luxurious bathrooms to your retreat. Create a free account on sites such as Pinterest or Houzz and start saving all of those ideas that make you feel at home!
Measure Twice – Cut Once and Order Once
Begin by designing your layout. It is crucial to include measurements, create floor plans in a drawing program, or sketch before shopping for items that will not fit the space correctly once installed. 
If possible, plan to keep the plumbing fixtures in their current locations. It can be expensive to relocate plumbing.
Vanity Options
The size of your current space available will determine the size of your vanity. Vanities can be custom-made or purchased as a complete unit with or without the countertop and sink.
When searching for a vanity company online, you might find that the website of Wayfair.com is one to bookmark and explore further!
You can search the vanities by width if you have the width measured for your vanity. What style do you like? Have you thought about a color that attracts your attention? What height do you need? 
Countertops
The best countertops are ones that will never go out of style. Of course, it depends on what you want your bathroom to look like for the next 20 years, but there is no doubt that granite, quartz, and Corian can provide this in many ways.
Your budget will determine your countertop material, so decide on your budget before shopping.
Lower the sink countertop so people in wheelchairs can use it while seated or standing up. 
Motion-Activated Faucets
Install a motion-activated faucet for easy use. 
Look for a faucet with an anti-scalding device. The device will help ensure the water doesn't get too hot and hurt someone in a wheelchair or sensitive to hot water. It also helps to avoid burns from brushing teeth, washing hands, etc., if you have small children around.
Install Grab Bars for Safety
It's never fun to have a fall in the bathroom. However, the help of grab bars can make these falls less likely, and keep you safe from injuries while showering or using the toilet. Grab bars are easy to install and provide stability when getting out of your bathtub with ease!
Prevent falls in the bathroom by installing grab bars at strategic locations. For example, install Grab Bars near the toilet, alongside shower walls, and in front of a tub or sink to provide safe access during bathing.
Mirror Placement
Consider mirror placement carefully. A well-lit mirror that tilts downward is optimal for those who sit to shave or brush their teeth, especially if at a height where they can see themselves from any seat in the bathroom.
Consider installing a makeup mirror that can swivel and extend to provide perfect lighting. Find one in your favorite color for all your needs; magnifying, full-length, or dual-sided options are just some examples of what's available!
Walk-in Shower
To make a shower handicapped accessible, install no threshold with plenty of room for wheelchairs to enter. Handicapped accessible showers are a must for those with physical limitations. Some people may not be able to step over the threshold.
Consider installing an adjustable height seat in the stall and have grab bars on both walls near the back or side of the shower. If there's not enough space outside, then place some inside too!
Please make sure you use bright, waterproof LED lights so it doesn't feel trapped in darkness.
Use a shower chair and a handheld showerhead to make the experience more comfortable.
Shower Chair
Not only will a shower seat ensure that you are not going to slip and fall, but it also gives your tired feet some rest. They offer safety as well as comfort with their ergonomic design.
When choosing the right chair for yourself or a loved one, it is essential to make sure they have weight restrictions in place to use them comfortably without fear of being injured if there is any falling from happening while bathing.
While we want our shower chairs to be waterproof, often, people neglect this aspect and find themselves having issues later on down the line because water has seeped into cracks in between boards, causing molding and rust, which could potentially lead to an unsafe situation.
Lighting
A handicapped bathroom should be well-lit for a better experience. A dimmer switch on the lighting will allow you to adjust it depending on what activity or mood you are in that day, and motion sensors can help turn lights off when no one is around. For safety reasons, an automatic light timer may also work as these keep your surroundings bright without having to flip switches yourself!
Music and Emergency Alert System
One option is to use Alexa for listening to music or hearing up-to-date news. If you fall, Alexa will call the emergency number to get help and stay online with your family until it arrives. An emergency alert system is a must in the bathroom.
Hardware – Door Levers, Towel Bars, Robe Hooks, and Toilet Paper Holders
Replace all hardware with handicapped-accessible ones, such as lever doorknobs, bathtub/shower controls, and toilet handles.
A door with an extended lever handle, push plate, and no threshold will make it much easier for someone in a wheelchair to enter.
Organize for Access
Are you worried that your items are all too hard to reach? Organizing them in order of use is vital. Put the most often used things you want within arms reach first and then lower down as needed. Place accessories like makeup, hairbrush, and toothpaste on a shelf near eye level for easy access with good lighting!
Reorganize the bathroom so that it is more accessible for wheelchair users.
Choosing a Contractor
If you decide to try and tackle this project on your own or with family and friends, be sure they are experienced and skilled in remodeling projects of this magnitude.
Not everyone is qualified enough to do it right! Some contractors specialize in doing only home renovations, while others build new homes. Make sure you call a few to find out their experience in doing complete bathroom remodels. Ask your friends and neighbors for recommendations.
Some contractors allow you to purchase your plumbing fixtures and tile. Buying your materials will save you some money, and you are responsible for having everything ready to install when the tradespeople work in your home.
Conclusion
If you are remodeling your entire home, doing a complete bathroom remodel is worth the cost. It may involve tearing down pre-existing walls and installing new features like wider doorways and lower countertops for wheelchair access. Remodeling can take time and money, but it will provide the best accessibility for your needs if done right.