Saint Patrick's Day is a universal celebration in memory of Ireland's prominent saint. Many people, especially those who are Irish or Irish, enjoy celebrating this fun and festive holiday with themed parties and a St. Patrick's Day parade. Here are some ideas for your St. Patrick's Day Party for Senior Citizens to get you started.
Lá Fhéile Pádraig sona duit!
One great way to celebrate the holiday is by hosting a potluck party. Ask your friends and family to each bring a dish that is Irish-themed or related to the color green. These dishes can be anything from a traditional Irish dish like shepherd's pie or boxty to green-colored snacks like green Jell-O or fruit skewers.
Another fun idea is to have a themed costume party. Everyone can come dressed in their favorite St. Patrick's Day outfit, whether a traditional Irish leprechaun costume or something more modern and festive. You could also have a contest for the best St. Patrick's Day-themed costume.
If you're looking for activities for seniors that are a little more low-key, why not just have a party where everyone comes to socialize and enjoy some Irish music and beverages?
There are plenty of Irish pubs in most cities that will be happy to host a St. Patrick's Day party for you and your friends.
Here are some activities for seniors to make this holiday fun and memorable:
1. Have your guests wear green clothes or accessories on the day of the party to add to the festive atmosphere.
2. Hang shamrocks all over the place.
3. Contact local schools or college marching bands to see if they are available for a Patrick's Day parade around the neighborhood on the day of your event. If that's not possible, set up a CD with Irish music in the background for added ambiance.
4. Prepare simple finger foods and snacks that you think your guests will enjoy.
5. If you'd like, purchase paper leprechaun hats for your senior citizen friends and family members to complement the holiday spirit.
6. Buy yourself a green shirt or tie to show that you're in the St. Patrick's Day spirit.
7. If you're a fan of playing board games, put together an Irish-themed game for your guests to enjoy.
8. Make a plate of Lucky Charms and leave it out on the table as one of the snacks you provide for your senior citizen friends.
9. Sponsor raffles to give away green St Patrick's Day goodie bags filled with Irish-themed gifts.
10. If you have a fireplace or outdoor fire pit, set up cauldrons full of green dye to make green flames, an iconic symbol of St. Patrick's Day.
11. Hang signs like "Erin Go Bragh" or "Top of the Morning to Ya!" around the house.
12. If you have children at home, get them involved by coloring pages with Shamrocks and Leprechauns so that your guests can color them as well.
13. Contact local schools or universities to host St. Patrick's Day event. Your senior citizen friends might also enjoy checking it out.
14. Watch Leprechaun movies, such as "Leprechaun" or "Leprechaun in the Hood," to prepare for the day.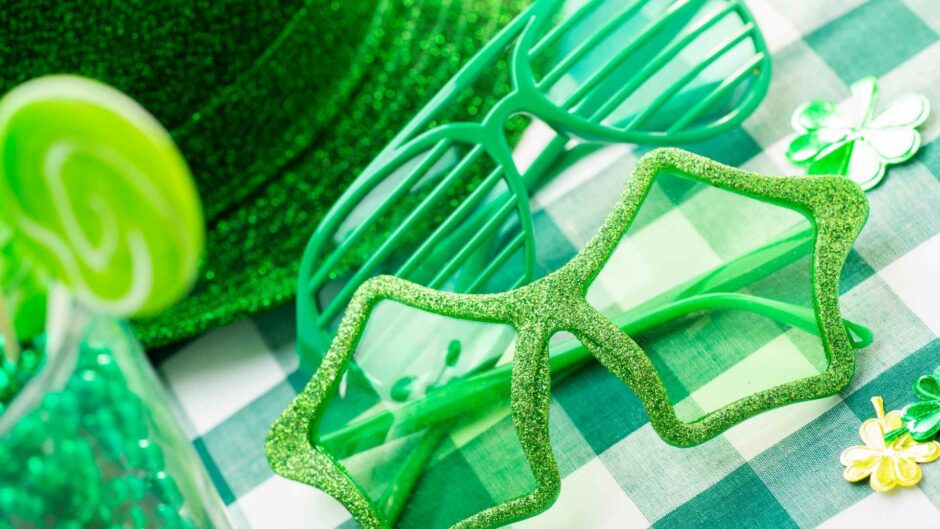 15. If you'd like to host a St. Patrick's day themed party with only your closest friends, invite everyone for a quiet night of fun activities and games.
16. If you're feeling creative, make leprechaun traps (a simple bowl filled with water and Green food coloring) if any real leprechauns show up.
17. Set out some Irish rock candy for your guests to enjoy.
18. Enjoy a nice hot cup of Irish coffee with your loved one.
19. Give away some green and gold candy as party favors for your friends and children.
20. Plan a scavenger hunt – based on green items.
St. Patrick's Day Party Food
When planning your Irish-themed menu, remember to accommodate your guests. For example, many seniors may have problems with their dentures or may not be able to chew as well as they used to, so food items that are easy to chew and soft would be ideal. Like green Jell-O shots? Maybe green mashed potatoes?
Then again, you could always go the route of a simple meal. Sandwiches, salads, creamed soups, and stews are all excellent options. Of course, there's also always the classic corn beef and cabbage.
Gift Ideas for the Elderly in Nursing Homes or Assisted Living
Why not consider giving the elderly living in a nursing home a special and unique gift for St. Patrick's Day? Here are a few ideas to get you started:
1. A basket of favorite Irish snacks or treats. These items can be anything from popcorn to cookies to candy.
2. A subscription to a favorite Irish magazine or newspaper.
3. A CD of favorite Irish music or stories.
4. A gift certificate to a local Irish restaurant or pub.
5. A basket filled with Irish-themed items such as a shamrock tea towel, a CD of traditional Irish music, or a book about Ireland.
6. A donation to a favorite Irish charity in your loved one's name.
7. A personalized card with a special St. Patrick's Day message.
8. A small pot of gold-themed potpourri or other home decoration.
9. An Irish-themed bookmark or keychain.
10. Anything else your loved one might enjoy related to Ireland or St. Patrick's Day!
Hang a Green Banner from Your Loved One's BedPost
If you have a loved one at an assisted living facility that doesn't allow decorations, or if you want to do something simple and safe, make or purchase an Irish-themed banner and hang it from your loved one's bedpost. You can write their name on the banner or include a St Patrick's Day saying.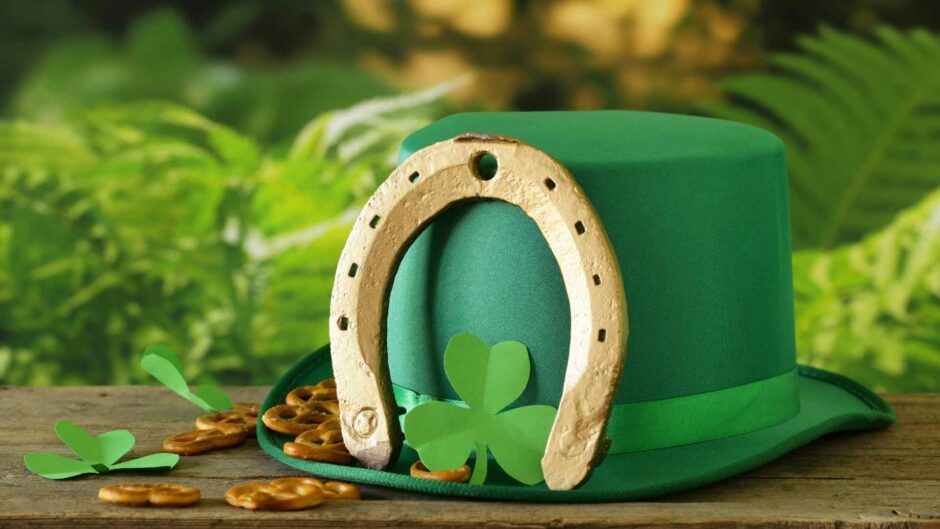 FAQ
What Brings Good Luck on St. Patrick's Day?
There is no definitive answer to this question, as different cultures attribute different items luck. However, some of the most common symbols of good luck include the following:
Lucky Charms – This cereal is called "good luck" after its main component, which brings good fortune.
Four-Leaf Clover – Considered to be the luckiest of all symbols, the four-leaf clover is said to bring good fortune to those who find it.
Horseshoe – It is believed that placing a horseshoe in the home will bring good fortune.
Pennies is considered lucky to find a penny on the ground, as it brings good luck to the finder.
No matter how you choose to celebrate, be sure to have a lot of fun activities and enjoy the company of your loved ones! ♥️🍀🎉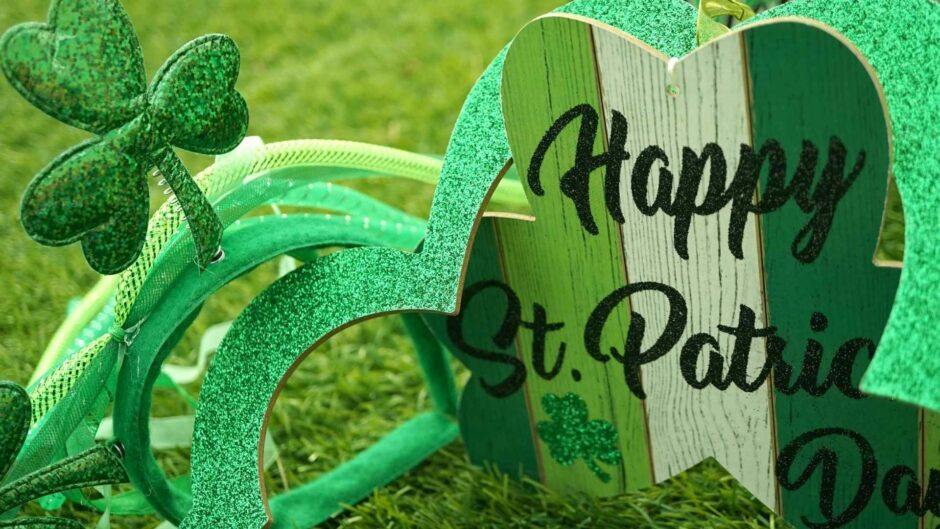 Are you looking for more fun party ideas for seniors? Check out our blog post on Senior Citizen Birthday Party Ideas.